Go To Team Atlanta Crew | ESPN | Florida State Athletics
You know when you're watching a live ESPN sporting event and the screen cuts to beautiful scenic shots of the team's campus/city? Our incredible crews filmed some of those shots! 
Go To Team's Atlanta cameraman, Nate Silverman, recently traveled to Tallahassee, Florida to film scenic shots for ESPN at Florida State University. ESPN will feature the shots during live broadcasting of Florida State athletic events. 
 Nate used a Sony F5 to capture shots all over campus. He filmed day and night to cover the university's iconic locations.  Since Nate was constantly changing locations, he used a mounted on-camera light for additional lighting.
The Westcott Building is a historic landmark on Florida State's campus, it was built in 1910 and serves as the college's administration building. The Westcott fountain is also a historic landmark and a popular place for students to capture graduation pictures!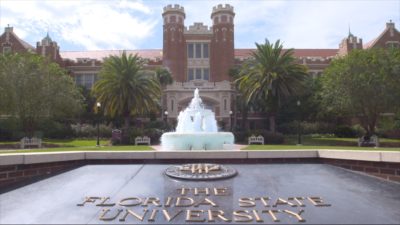 Nate visited the Seminoles' on-campus football stadium to capture shots of the massive stadium. Named one of the top stadiums in college sports, FSU's Doak Cambell Stadium has a seating capacity for 83,000 fans. The team has won three national championships and is known for their distinctive helmet and fight song.
]
The Donald L. Civic Center is a multi-purpose arena, home to FSU's basketball team. The Seminoles' athletic teams compete in the Atlantic Coast Conference (ACC). 
Thank you to ESPN for allowing our crew to capture footage of Florida State University's beautiful campus! We hope to work with ESPN again soon!