Go To Team Atlanta Crew | TBS | NLDS Series
It's officially October and you know what that means? Fastballs get faster and it's only the best of the best left on the field. It's time for MLB playoffs!
Summer is over and so is the leisure of MLB players having 160 + games to improve their game. It's all or nothing for these teams when October rolls around. 
Go To Team's Atlanta DP, Nate Silverman kicked off playoff coverage with TBS at the National League Division Series (NLDS). This championship determines which out of the two teams will advance to the National League Championship Series. 
So far, 4 games have been played in the 2019 NLDS Series. The Cardinals won games 1 and 4 and the Braves won games 2 and 3. The last game will take place tonight, 10/9 at SunTrust Park in Atlanta for the winner-take-all Game 5!  
Here are some fun facts about the two teams:
Cardinals Fun Facts: The last time the Cardinals made it to postseason was in 2015! Adam Wainwright, (pictured below) 38-year-old veteran pitcher for the St. Louis Cardinals, is closing out his fifteenth season with the Cardinals. 
Braves Fun Facts: The Braves haven't won a playoff series in 18 years, which means that their three 20-year-old pitchers were only two years old the last time the Braves won a playoff series! 
Shot on a Sony F5 with a Canon L-Series 24-70mm lens, Silverman captured interview shots of Braves and Cardinals stars Paul Goldschmidt, Adam Wainwright, Freddie Freeman, Dexter Fowler, and Josh Donaldson.
To highlight the players for the interview style shoot, the crew used a Kino Diva 400, a neg fill and a Generay bi-color light for additional lighting. The Generay bi-color light panel was used as an edge light and was positioned behind the player. They also set up a black backdrop. Shooting with a black background creates a serious and is great for interviews so your subject is the focus of attention. The dramatic tone of the interview shoots were perfect for the seriousness of these final playoff games.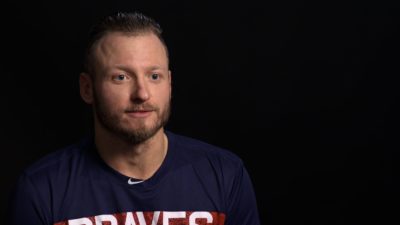 After the interviews, Silverman adventured around SunTrust Park, and captured shots of props to support the broadcast and promote TBS' coverage throughout the playoffs.
Make sure to tune into the final playoffs game tonight on TBS!
We would like to say thank you to TBS for choosing Go To Team to capture these shots at the playoffs! Our crew had a blast and we hope to work with them in the future!